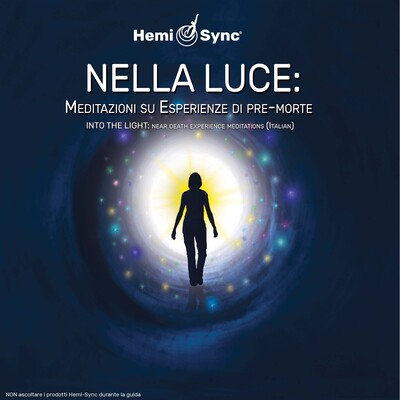 Nella Luce: Meditazioni su Esperienze di pre-morte (Into the Light: NDE Meditations – Italian)
Nella Luce: Meditazioni su Esperienze di pre-morte (Into the Light: NDE Meditations – Italian)
Questo programma include quattro esercizi guidati realizzati da esperti e progettati per darti un'idea di cosa significa vivere un'esperienza di pre-morte (NDE).
Creato da Scott Taylor, ricercatore e relatore sulle esperienze di pre-morte, il programma si basa sull'analisi di oltre 6.000 casi-studio di NDE realmente accadute. Gli esercizi "Il Ricongiungimento, La Rivisitazione della Vita, Le Città di Luce, Il Regno del Sapere" sono progettati per essere usati molte volte. Puoi aspettarti un'esperienza diversa ogni volta e scoprirai che la tua esperienza del mondo fisico diventerà più ricca man mano che acquisirai una prospettiva anche dal mondo non-fisico.
Avrai una NDE o un'esperienza simile alla pre-morte? Nessuno può prevedere cosa farà un altro essere umano. Comunque, avrai tutte le possibilità di entrare in stati alterati di coscienza che consentono un'esperienza di consapevolezza espansa. Un manuale d'uso dettagliato è incluso. Musica di Jonn Serrie.
Tradotto da: Elena Tonazzo
Rivisto e doppiato da: Luca Biotti
Altri titoli della serie Nella Luce: Esplora il Tunnel, Incontra le tue Guide, Irradia Amore, Abbraccia la Sorgente   
People also liked
See All
Related products
Vuelta a Casa (Going Home – Subject)

MP3 $82.65

Album Series

La Dra Elisabeth Kübler-Ross MD, autoridad reconocida mundialmente en el proceso de morir y la muerte, junto con Charles Tart, reconocido investigador de los estados alterados de la conciencia humana, colaboraron con Robert Monroe en el desarrollo de esta serie que ofrece una oportunidad única de desarrollo personal y conocimiento expandido. Los ejercicios llegan muy lejos en el continuum de la conciencia hasta experimentar la independencia del cuerpo físico. Estos valiosos viajes de descubrimiento ayudan a aprender que la muerte no es algo a temer a la vez que ayudan a resolver asuntos personales, permitiendo vivir más plenamente el momento actual. Es particularmente útil para personas que sufren enfermedades terminales y para las personas que los están cuidando.

Going Home® Support

MP3 $82.65

Album Series

Designed to help family and friends better understand and accept the reality of the death process.

GH307DL-7 Going Home Support 4 Mind Awake Body Asleep
GH307DL-8 Going Home Support 5 Flying Free
GH307DL-9 Going Home Support 6 Remove and Release
GH307DL-10 Going Home Support 7 Edge of Here and Now
GH307DL-11 Going Home Support 8 Touring the Interstate
GH307DL-12 Going Home Support 9 Moment of Revelation
GH307DL-1 Going Home Support 10 Messages in 21
GH307DL-2 Going Home Support 11 Recharge and Regenerate
GH307DL-3 Going Home Support 12 Restorative Sleep
GH307DL-4 Going Home Support 1 GoingHomeLeaders Elizabeth Kubler Ross MD
GH307DL-5 Going Home Support 2 GoingHomeLeaders Charles Tart PhD
GH307DL-6 Going Home Support 3 HemiSync Technology
What is Mind Food®
Mind Food® titles incorporate verbal guidance and/or subtle sound effects along with specially blended Hemi-Sync frequencies and sound patterns designed to help you achieve and sustain synchronized brain wave activity in both hemispheres of your brain. As with Metamusic recordings, Mind Food selections are available for a wide variety of uses ranging from meditations or focused attention to stress management and sleep enhancement, or for other practical everyday applications.