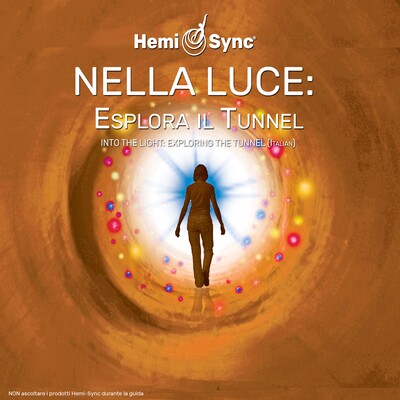 Nella Luce: Esplora il Tunnel (Into the Light: Exploring the Tunnel – Italian)
Nella Luce: Esplora il Tunnel (Into the Light: Exploring the Tunnel – Italian)
La terza offerta della serie NELLA LUCE; questo album è progettato per affrontare due opportunità di esplorazione.
Il primo esercizio, Esplora il Tunnel, è un'esplorazione completamente guidata del tunnel che si incontra spesso durante un'esperienza di pre-morte (NDE). Durante questo esercizio preparerai il tuo corpo, mente ed energia per rendere possibile l'esplorazione.
Esplorerai quindi il tunnel mentre sei guidato a sperimentare i colori, la musica ed i cristalli che si trovano al suo interno. Ti collegherai con il tunnel stesso e scoprirai le sue origini ed il suo significato. Il secondo esercizio è un percorso libero, in cui puoi rivisitare strutture, persone ed energie che hai incontrato durante l'esercizio guidato. Le frequenze Hemi-Sync® aiutano a supportare questo processo. Un manuale d'uso dettagliato è incluso.
Musica di Christopher Lloyd Clarke. Concesso in licenza da Enlightened Audio.
Tradotto da: Elena Tonazzo
Rivisto e doppiato da: Luca Biotti
Altri titoli della serie Nella Luce: Meditazioni su Esperienze di pre-morte, Incontra le tue Guide, Irradia Amore, Abbraccia la Sorgente   
People also liked
See All
Related products
Into the Light with Hemi-Sync (Japanese) イントゥ・ザ・ライト

MP3 $26.65

Mind Food®

本プログラムの目的は、臨死体験とはどのような感覚かを知っていただくことです。

Going Home® Support

MP3 $82.65

Album Series

Designed to help family and friends better understand and accept the reality of the death process.

GH307DL-7 Going Home Support 4 Mind Awake Body Asleep
GH307DL-8 Going Home Support 5 Flying Free
GH307DL-9 Going Home Support 6 Remove and Release
GH307DL-10 Going Home Support 7 Edge of Here and Now
GH307DL-11 Going Home Support 8 Touring the Interstate
GH307DL-12 Going Home Support 9 Moment of Revelation
GH307DL-1 Going Home Support 10 Messages in 21
GH307DL-2 Going Home Support 11 Recharge and Regenerate
GH307DL-3 Going Home Support 12 Restorative Sleep
GH307DL-4 Going Home Support 1 GoingHomeLeaders Elizabeth Kubler Ross MD
GH307DL-5 Going Home Support 2 GoingHomeLeaders Charles Tart PhD
GH307DL-6 Going Home Support 3 HemiSync Technology

Into the Light: Embracing Source

Rated 4.67 out of 5

MP3 $20.82

Mind Food®

Enter the realm of the Black Light as you merge with Source.

Into the Light: Embracing Source
Into the Light: Embracing Source – Open Exercise
Into the Light: Embracing Source – Booklet
What is Mind Food®
Mind Food® titles incorporate verbal guidance and/or subtle sound effects along with specially blended Hemi-Sync frequencies and sound patterns designed to help you achieve and sustain synchronized brain wave activity in both hemispheres of your brain. As with Metamusic recordings, Mind Food selections are available for a wide variety of uses ranging from meditations or focused attention to stress management and sleep enhancement, or for other practical everyday applications.