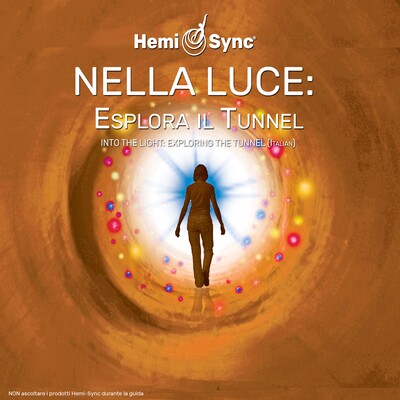 Nella Luce: Esplora il Tunnel (Into the Light: Exploring the Tunnel – Italian)
Nella Luce: Esplora il Tunnel (Into the Light: Exploring the Tunnel – Italian)
La terza offerta della serie NELLA LUCE; questo album è progettato per affrontare due opportunità di esplorazione.
Il primo esercizio, Esplora il Tunnel, è un'esplorazione completamente guidata del tunnel che si incontra spesso durante un'esperienza di pre-morte (NDE). Durante questo esercizio preparerai il tuo corpo, mente ed energia per rendere possibile l'esplorazione.
Esplorerai quindi il tunnel mentre sei guidato a sperimentare i colori, la musica ed i cristalli che si trovano al suo interno. Ti collegherai con il tunnel stesso e scoprirai le sue origini ed il suo significato. Il secondo esercizio è un percorso libero, in cui puoi rivisitare strutture, persone ed energie che hai incontrato durante l'esercizio guidato. Le frequenze Hemi-Sync® aiutano a supportare questo processo. Un manuale d'uso dettagliato è incluso.
Musica di Christopher Lloyd Clarke. Concesso in licenza da Enlightened Audio.
Tradotto da: Elena Tonazzo
Rivisto e doppiato da: Luca Biotti
Altri titoli della serie Nella Luce: Meditazioni su Esperienze di pre-morte, Incontra le tue Guide, Irradia Amore, Abbraccia la Sorgente   
People also liked
See All
Related products
Hacia dentro de la luz con Hemi-Sync® (Into the Light)

MP3 $26.65

Mind Food®

Este programa ofrece cuatro ejercicios guiados elaborados por expertos, diseñados para darte una sensación de cómo es tener una experiencia cercana a la muerte. Creado y narrado por el investigador y conferencista Scott Taylor, el programa se basa en un análisis de más de 6000 estudios de caso sobre experiencias cercanas a la muerte. Los ejercicios —Reunión, Repaso de la vida, Ciudades de luz y El reino del conocimiento— están diseñados para ser usados muchas veces. Podrás esperar una vivencia distinta cada vez y encontrarás que tu manera de experimentar el mundo físico se enriquecerá a medida que adquieras una mayor perspectiva desde lo no físico.

Into the Light: Embracing Source

Rated 4.50 out of 5

MP3 $20.82

Mind Food®

Enter the realm of the Black Light as you merge with Source.

Into the Light: Embracing Source
Into the Light: Embracing Source – Open Exercise
Into the Light: Embracing Source – Booklet

Going Home® Series Package

MP3 $165.28

Album Series

2 album set valuable for anyone with a life-threatening condition and for caregivers of the terminally ill.
What is Mind Food®
Mind Food® titles incorporate verbal guidance and/or subtle sound effects along with specially blended Hemi-Sync frequencies and sound patterns designed to help you achieve and sustain synchronized brain wave activity in both hemispheres of your brain. As with Metamusic recordings, Mind Food selections are available for a wide variety of uses ranging from meditations or focused attention to stress management and sleep enhancement, or for other practical everyday applications.