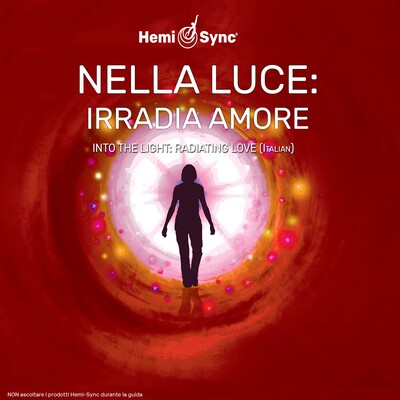 Nella Luce: Irradia Amore (Into the Light: Radiating Love – Italian)
Nella Luce: Irradia Amore (Into the Light: Radiating Love – Italian)
Esplora e connettiti alla Luce Chiara dell'Amore
La quinta offerta in questa serie di meditazioni su esperienze di pre-morte (NDE), si concentra sull'esplorazione e la connessione alla Luce Chiara dell'Amore, e sul riconoscere che questo amore è in noi, tutto intorno a noi ed è l'energia fondamentale del nostro universo. La guida verbale ti accompagna nell'aprire il tuo cuore, far fluire l'amore nel mondo e connetterti all'amore dell'Universo. Le frequenze Hemi-Sync® ti aiutano a rimanere in questo spazio del cuore.
L'album comprende due esercizi: uno guidato verbalmente ed un percorso libero, per esplorare questo stato in modo più approfondito. Un manuale d'uso dettagliato è incluso.
Musica di Christopher Lloyd Clarke. Concesso in licenza da Enlightened Audio.
Tradotto da: Elena Tonazzo
Rivisto e doppiato da: Luca Biotti
Altri titoli della serie Nella Luce: Meditazioni su Esperienze di pre-morte, Incontra le tue Guide, Esplora il Tunnel, Abbraccia la Sorgente   
People also liked
See All
Related products
Going Home® Subject

MP3 $82.65

Album Series

Dramatically reduce the common fear of physical death

GH306DL-1 Going Home Subject 10 Return to Revelation
GH306DL-2 Going Home Subject 11 Relocation Theme
GH306DL-3 Going Home Subject 1 Mind Awake Body Asleep
GH306DL-4 Going Home Subject 2 Flying Free
GH306DL-5 Going Home Subject 3 Remove and Release
GH306DL-6 Going Home Subject 4 Edge of Here and Now
GH306DL-7 Going Home Subject 5 Touring the Interstate
GH306DL-8 Going Home Subject 6 Moment of Revelation
GH306DL-9 Going Home Subject 7 Right of Passage
GH306DL-10 Going Home Subject 8 Homecoming
GH306DL-11 Going Home Subject 9 Freedom Flight

Going Home® Support

MP3 $82.65

Album Series

Designed to help family and friends better understand and accept the reality of the death process.

GH307DL-7 Going Home Support 4 Mind Awake Body Asleep
GH307DL-8 Going Home Support 5 Flying Free
GH307DL-9 Going Home Support 6 Remove and Release
GH307DL-10 Going Home Support 7 Edge of Here and Now
GH307DL-11 Going Home Support 8 Touring the Interstate
GH307DL-12 Going Home Support 9 Moment of Revelation
GH307DL-1 Going Home Support 10 Messages in 21
GH307DL-2 Going Home Support 11 Recharge and Regenerate
GH307DL-3 Going Home Support 12 Restorative Sleep
GH307DL-4 Going Home Support 1 GoingHomeLeaders Elizabeth Kubler Ross MD
GH307DL-5 Going Home Support 2 GoingHomeLeaders Charles Tart PhD
GH307DL-6 Going Home Support 3 HemiSync Technology
What is Mind Food®
Mind Food® titles incorporate verbal guidance and/or subtle sound effects along with specially blended Hemi-Sync frequencies and sound patterns designed to help you achieve and sustain synchronized brain wave activity in both hemispheres of your brain. As with Metamusic recordings, Mind Food selections are available for a wide variety of uses ranging from meditations or focused attention to stress management and sleep enhancement, or for other practical everyday applications.