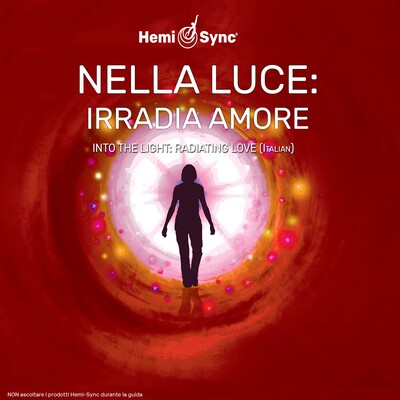 Nella Luce: Irradia Amore (Into the Light: Radiating Love – Italian)
Nella Luce: Irradia Amore (Into the Light: Radiating Love – Italian)
Esplora e connettiti alla Luce Chiara dell'Amore
La quinta offerta in questa serie di meditazioni su esperienze di pre-morte (NDE), si concentra sull'esplorazione e la connessione alla Luce Chiara dell'Amore, e sul riconoscere che questo amore è in noi, tutto intorno a noi ed è l'energia fondamentale del nostro universo. La guida verbale ti accompagna nell'aprire il tuo cuore, far fluire l'amore nel mondo e connetterti all'amore dell'Universo. Le frequenze Hemi-Sync® ti aiutano a rimanere in questo spazio del cuore.
L'album comprende due esercizi: uno guidato verbalmente ed un percorso libero, per esplorare questo stato in modo più approfondito. Un manuale d'uso dettagliato è incluso.
Musica di Christopher Lloyd Clarke. Concesso in licenza da Enlightened Audio.
Tradotto da: Elena Tonazzo
Rivisto e doppiato da: Luca Biotti
Altri titoli della serie Nella Luce: Meditazioni su Esperienze di pre-morte, Incontra le tue Guide, Esplora il Tunnel, Abbraccia la Sorgente   
People also liked
See All
Related products
Vuelta a Casa (Going Home – Subject)

MP3 $82.65

Album Series

La Dra Elisabeth Kübler-Ross MD, autoridad reconocida mundialmente en el proceso de morir y la muerte, junto con Charles Tart, reconocido investigador de los estados alterados de la conciencia humana, colaboraron con Robert Monroe en el desarrollo de esta serie que ofrece una oportunidad única de desarrollo personal y conocimiento expandido. Los ejercicios llegan muy lejos en el continuum de la conciencia hasta experimentar la independencia del cuerpo físico. Estos valiosos viajes de descubrimiento ayudan a aprender que la muerte no es algo a temer a la vez que ayudan a resolver asuntos personales, permitiendo vivir más plenamente el momento actual. Es particularmente útil para personas que sufren enfermedades terminales y para las personas que los están cuidando.

Destination: Higher Self! (Japanese) ハイヤーセルフへの帰還

MP3 $20.82

Mind Food®

私たちは誰しも、「死」と呼ばれる意識の移行へと向かっています。あなたや、あなたの愛す

る人たちは、このスピリチュアルな旅への準備ができているでしょうか?このプログラムは、

Going Home® Series Package

MP3 $165.28

Album Series

2 album set valuable for anyone with a life-threatening condition and for caregivers of the terminally ill.
What is Mind Food®
Mind Food® titles incorporate verbal guidance and/or subtle sound effects along with specially blended Hemi-Sync frequencies and sound patterns designed to help you achieve and sustain synchronized brain wave activity in both hemispheres of your brain. As with Metamusic recordings, Mind Food selections are available for a wide variety of uses ranging from meditations or focused attention to stress management and sleep enhancement, or for other practical everyday applications.