Traumfänger (Dreamcatcher)
Traumfänger (Dreamcatcher)
Träume sind das Tor zur Seele. Gleiten Sie mit wohltuender Hintergrundmusik, beruhigenden Geräuschen des Wassers und Hemi-Sync® sanft in den mystischen Traumzustand.
Don Peyote und Naasko bringen ihren schamanischen Einfluss kunstvoll in diese vielschichtige Komposition ein. Traumfänger unterstützt tiefen, erholsamen Schlaf, wenn der CD-Spieler auf Wiederholung eingestellt ist. Zudem ist die Aufnahme besonders geeignet für Massage, Energieheilung und kraftvolle Meditationen an der Grenze zum Schlaf. Verwendete Instrumente: Obertonakkorde, Basspfeife, Synthesizer, sowie Naturaufnahmen von Wasser und Walgesängen.
Artist
Between Worlds
with Hemi-Sync
®
Dreamcatcher
Eternal Now with Hemi-Sync®
Out of the Blue


Don Peyote, a.k.a. Yvon Mounier, is a  composer, music producer and multi-instrumentalist with a unique sound and a strong original style.
Based in Melbourne, Australia and operating from a home studio, Don has created an extensive array of world-influenced grooves and Deep Shamanic ambient compositions.
His music is featured in various dub, chill-out, world music, and dance compilations as well as film, jingles, and documentary soundtracks.
Don combines crisp production with intelligent arrangements, drawing upon indigenous, otherwordly and dub influences to create a soundscape where every moment counts.
Musical focus :
Trippy down-tempo, world-influenced psychedelic dub, and ambient soundscapes for modern rituals.
                                                  
Visit Don's website at http://www.donpeyote.net/
Artist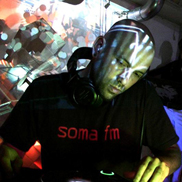 Between Worlds with Hemi-Sync®
Dreamcatcher
Naasko has been involved in the electronic music scene for the past 12 years as a DJ and event producer. He is currently label manager for Interchill Records and A&R for Native State Records and 8Fold Music is based in the mountains of south-central British Columbia, Canada.
In the studio Naasko has worked with Don Peyote on two Hemi-Sync® ambient titles - Between Worlds and Dreamcatcher, and has also co-produced downtempo electronica with Noah Pred as Sympath — a project that has had tracks featured on Bluetech's Native State Records.
In 2002 he founded Invisible Productions, a project management and event production company which has spearheaded the Liminal Village at the bi-annual Boom Festival in Portugal. Over the years Invisible Productions has also been on the core production team of many events and festivals along the West Coast and internationally.