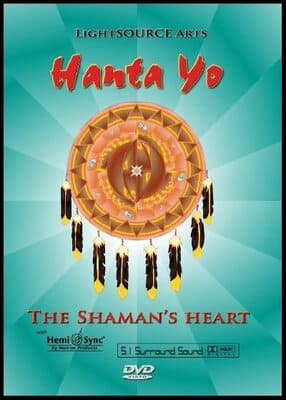 Hanta Yo with Hemi-Sync® DVD
Hanta Yo with Hemi-Sync® DVD
HantaYo! is a Lakota Sioux invocation and prayer that calls upon the Great Spirit to clear the way and make the path ready for the seeker's spiritual evolution. Hanta Yo DVD presents classic Native American shields, power symbols, and medicine wheels… finely illustrated and brought to life with scintillating color and LightSOURCE animation.
Included with Hanta Yo is the award winning Metamusic® title, The Shaman's Heart with Hemi-Sync® in 5.1 Surround Sound. The spellbinding shamanic music of Byron Metcalf and guest artist Steve Roach, will transport you to an infinite heart-space and remarkable binaural sonic dimension.
Created by software designer and artist, Mika Feinberg, Hanta Yo offers a uniquely beautiful portal into Native American cosmology. The image gallery includes:
·         Hopi Kokapelli Medicine Wheel
·         Cheyenne Symbol of the Universe Shield
·         Navajo Healing Snake Medicine Shield
·         Comanche Buffalo Totem
·         Mayan Tzolkin Mandala
·         Cheyenne Four Winds Shield
·         San Idefonso Pueblo Thunderbird Shield
·         Pueblo Indian Rain Shield
·         The Nazca Lines
·         Papago Indian Sun Labyrinth
·         Inuit Indian Mandala
·         Navajo Hunting Shield
Widescreen and Full-screen versions; on-disc extras include "About Hemi-Sync" video. 5.1 Surround Sound. Running Time: 74 minutes.
What is Sacred Geometry by LightSOURCE Arts
Experience personal development and enhanced well-being.
Sacred Geometry by LightSOURCE Arts with Hemi-Sync® products are visual aids (DVDs, software, and iOS device videos) of sacred geometry and other sacred symbols combined with a Metamusic® soundtrack. These products may be used daily to manage stress and improve health and well-being. With appropriate intent, this vibrant mix of ancient wisdom and new technology may be used as an extraordinary tool for transformation. Regardless of how you choose to use it, you will always benefit from its calming, centering and rejuvenating effects.
Sacred Geometry is the blueprint of Creation and the genesis of all form. It is an ancient science that explores and explains the energy patterns that create and unify all things, allowing us to discover the balance and harmony in all manifest reality. The ancients believed the experience of Sacred Geometry was essential to the education of the soul. They knew these patterns and codes were symbolic of our own inner realm and the subtle structure of awareness. To them, the "sacred" had particular significance involving consciousness and the profound mystery of awareness—the ultimate sacred wonder.
Sacred Geometry by LightSOURCE Arts with Hemi-Sync products allow you to experience higher aspects of Self within the design of pure Source energy. As the blueprints literally come to life before your eyes, you are propelled into ecstatic play with the magic of the universe—the very heart of Creation. When you enter the world of Sacred Geometry, you will recognize as never before, the wonderfully patterned beauty of the natural world.