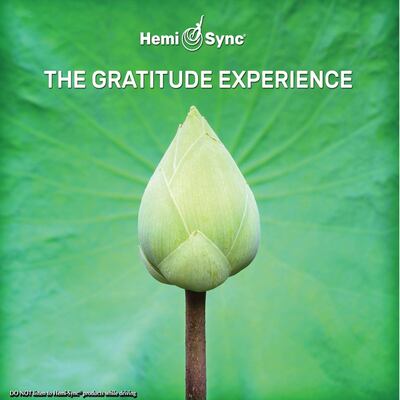 The Gratitude Experience
The Gratitude Experience
Raise your vibration by offering gratitude for everything in your life.
Feeling appreciation or gratitude is one of the most effective ways to bring high frequency energy and experiences into your life. The more you actively appreciate something or someone, the more you can shift into a positive state of being and attract similar experiences and relationships back to you. Patty Ray Avalon guides you through this experience as you list the situations, people, objects and qualities that you appreciate. Through this process you will become a more giving person and a powerful attractor of higher vibrational experiences. Hemi-Sync® frequencies help hold you in this higher vibration. Length: 34 min.
Music by Christopher Lloyd Clarke. Licensed by Enlightened Audio. Executive producer Garrett Stevens. Engineered and mastered by Kevin Cowan.
Also available in German
Other titles by Patty Ray Avalon are The Creative Way, Healing Journeys Support, Inner States: Dawning of Awareness, Positively Ageless, and Touching Earth.
Artist
Patty Ray Avalon has a B.F.A and an M.F.A from Indiana University. She has studied at the Art Institute of Chicago, and the Central School of Art and Design in London.
Ms. Avalon is a professional artist working in the Blue Ridge Mountains of Virginia. She has her artwork in private and public collections around the world. She has shown her work in the World Bank in Washington, D.C., the U.S. Botanical Garden, The Mellon Foundation, and has had her faux finishing used in the National Gallery of Art in Washington, D.C.

Her work has been featured in the Washington Post Home Section, Metropolitan Home, Country Living, House and Garden, and other popular magazines. She created and ran a full time art and design business in the Washington D.C. area for 25 years. She has illustrated numerous books and articles for companies such as McGraw Hill and Gallaudet Press.
Patty Ray is a former residential facilitator and lab coordinator at the renowned Monroe Institute, where she has worked for many years with the Hemi-Sync® technology. She is the author of over thirty five meditations for Hemi-Sync®, which includes the Hemi-Sync titles: Positively Ageless, The Creative Way, Healing Journeys Support, Inner States: Dawning of Awareness, and Inner States II: A Return to Light.
She is a member of the Monroe Institute's Professional Division, The Institute of Noetic Sciences, and ISSSEEM.
She is experienced in the Michael Harner Shamanic practices, as well as the Pathwork bioenergetic modality.
She is also an experienced energy healer, and former graduate and faculty member of the Barbara Brennan School of Healing in Miami Florida, and a former faculty member of Hollins College, in Virginia.
Putting her professional interests together in a larger perspective, Ms. Avalon feels that her true work in life, as a visionary artist, an energy healer and a facilitator of consciousness studies is that she helps "make the invisible visible."
What is Mind Food®
Mind Food® titles incorporate verbal guidance and/or subtle sound effects along with specially blended Hemi-Sync frequencies and sound patterns designed to help you achieve and sustain synchronized brain wave activity in both hemispheres of your brain. As with Metamusic recordings, Mind Food selections are available for a wide variety of uses ranging from meditations or focused attention to stress management and sleep enhancement, or for other practical everyday applications.