Dreamcatcher
Dreamcatcher
Drift gently into the mystical dreamstate with soothing ambient music, calming water sounds and Hemi-Sync®.
Dreams are gateways to the soul. Don Peyote and Naasko bring their shamanic influence to bear in this versatile composition. Dreamcatcher supports deep, restorative sleep when used in continuous play. It may also be used for massage therapy, subtle energy healing work or for powerful meditations in the borderland sleep state. Instruments featured: harmonic chords, drones, synthesizer, and field recordings of water sounds and whale calls. Length: 55 minutes.
Another Metamusic® title by Don Peyote and Naasko is Between Worlds, and other solo works by Don Peyote are Eternal Now with Hemi-Sync®, and Out of the Blue.
Artist
Between Worlds
with Hemi-Sync
®
Dreamcatcher
Eternal Now with Hemi-Sync®
Out of the Blue


Don Peyote, a.k.a. Yvon Mounier, is a  composer, music producer and multi-instrumentalist with a unique sound and a strong original style.
Based in Melbourne, Australia and operating from a home studio, Don has created an extensive array of world-influenced grooves and Deep Shamanic ambient compositions.
His music is featured in various dub, chill-out, world music, and dance compilations as well as film, jingles, and documentary soundtracks.
Don combines crisp production with intelligent arrangements, drawing upon indigenous, otherwordly and dub influences to create a soundscape where every moment counts.
Musical focus :
Trippy down-tempo, world-influenced psychedelic dub, and ambient soundscapes for modern rituals.
                                                  
Visit Don's website at http://www.donpeyote.net/
Artist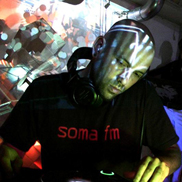 Between Worlds with Hemi-Sync®
Dreamcatcher
Naasko has been involved in the electronic music scene for the past 12 years as a DJ and event producer. He is currently label manager for Interchill Records and A&R for Native State Records and 8Fold Music is based in the mountains of south-central British Columbia, Canada.
In the studio Naasko has worked with Don Peyote on two Hemi-Sync® ambient titles - Between Worlds and Dreamcatcher, and has also co-produced downtempo electronica with Noah Pred as Sympath — a project that has had tracks featured on Bluetech's Native State Records.
In 2002 he founded Invisible Productions, a project management and event production company which has spearheaded the Liminal Village at the bi-annual Boom Festival in Portugal. Over the years Invisible Productions has also been on the core production team of many events and festivals along the West Coast and internationally.