Breath of Creation: Solo Huaca
Breath of Creation: Solo Huaca
Evoke timeless feelings and emotions with ancient sounds of the modern-day huaca and Hemi-Sync®.
"Huaca" is a South American native term for something holy or sacred and the hallowed sound of breath flowing through fired clay inspires this sense of sacredness. For thousands of years flute instruments from virtually every culture have been used for ritual and healing. The huaca is a radical innovation in this tradition with large chambers allowing for three-part harmony in a wind instrument for the first time. Alan Tower's hauntingly beautiful huaca compositions have an organic, primal sound quality that spans the ages of time. Instruments featured: solo huaca. Length: 62 minutes.
Another Metamusic® title by Alan Tower is Emergence.
People also liked
See All
Artist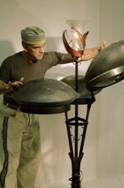 Breath of Creation
Emergence
Organic world acoustic music
For many years Alan Tower was entranced with writing for solo acoustic guitar with Leo Kottke, Alex deGrassi and Michael Hedges as inspiration or mentors. In the early 90's, experimenting with a new technique, he injured his hand so severely that he was not able to play for many years, and now only for short periods. However, this was a gift, as Tower became interested in the huaca (triple chambered clay vessel flute), then the didjeridu and most recently the Hang and Shruti Box. These instruments are all earth based — made from clay, wood or agave cactus and provide a natural connection to his work as an environmental activist. The instruments are also based on, or directly from, non-western cultures. At this point, the intersection of music, activism and world cultural became complete, without a previous plan to integrate these together. In bringing the western compositional approach/techniques used in writing for solo guitar to these new instruments, Tower discovered that there was a wide world open to him in pushing the instruments beyond their current boundaries. At the same time he became fascinated by experiencing and developing music based on the natural scale heard in Indian music, losing interest in the equal tempered scale common in the west.
Since becoming sensitized to the current environmental crisis through the work of Brian Swimme and Thomas Berry, Tower's vision of music has been as a voice and catalyst for a more humane sustainable culture. In 2002 he launched the Green Music Network — a musical venture to promote work in this area at the intersection of science and spirit. His compositions and unusual sounds have been used in a series of Tsunami Ranger video's on Sea Kayaking, in the Ellipsis Arts CD/book Orbitones, Spoonharps and Bellowphones, in the 2004 Disney/Skywalker movie Peter Pan, and in soundtracks for meditation and yoga. He performs solo, in duo, and with Ancient Future in the Cave Concert series, around the San Francisco bay area and the Western states.

"The music of Alan Tower is all tracings. Like the bards of ancient times he holds up the mirror of our follies. But he also holds up stars and mists and fleeting lights that trace hidden paths out of the darkness. He is a composer of dreams and a gentle artisan of hope." — Miriam Teresa McGillis O.P., Founder, Genesis Farm Lecturer, Fate of the Earth
"When I listen to the huaca music on Waves, I feel as if I am being drawn into an ancient mystery tradition where the secrets are all encoded in the subtle blend of notes, evoking something ineffable from the heart without passing through the mental region and its thoughts."
— Brian Swimme, Author of The Universe Story, and The Universe is a Green Dragon
"Alan brings together innovative technique and real heart to create a new voice for guitar."
— Alex deGrassi, solo guitar composer/performer

"The rich movements of Alan Tower's guitar on Arktos are both soothing and unexpected. In addition to evoking nature's beauty and texture, they made me do things that very little new music in this music saturated world makes me do any more. They made me stop what I was doing. And listen. And feel gratitude."
— Alan Atkisson, sustainability consultant and author of Believing Cassandra

Current compositional instruments:
Huaca — A pan-cultural triple chambered clay wind instrument. A radical innovation on the ocarina, invented by Sharon Rowell of Berkeley, CA in 1980. Tower has 12 of these one-of-a-kind instruments that have been fitted for his hands. They are in a variety of keys with two of them having each the three chambers tuned to a major chord: F (FAC) and E (EG#B). The split mouthpiece allows one, two or three chambers to be played together in harmony. With three independent chambers of complex sound arising from a single breath, the huaca for some seems to trigger a response from strands of DNA long atrophied away — resonating with an eternal place embedded in our genes.

Didjeridoo — An Australian aboriginal instrument discovered and developed some 35,000 years ago by aboriginals in partnership with termites. It is now played throughout the world. Made from a wide variety of woods and cactus stalks each has a sound unique to the climate it grew in. Tower primarily plays agave creations from Didjemana's Jusse Nayeli, a South African maker, with the lowest pitch being a 9'6" G called Fat Boy with a perfect natural taper. His approach tends to focus on harmonic melodies above the drone, odd time signatures, and adding to the drone new sounds to create three striated clear notes, bringing to mind Khoomei and Kagyraa styles of Tuvan throatsinging.

Hang ("hung") — A new instrument from Swiss Makers that is a modern day pan instrument of the new millennium.

Shruti Box — From the Indian music culture, most consider this a simple drone box with bellows, but in reality it is one of the most versatile instruments in the world today.


Recordings
Recordings (released on Ancient Future Records.com) are each based on an ecological or cultural thematic idea with the different musical pieces linked together as one whole.
10,000 Thunderstorms: the Spirit of Evolution (2003 remaster, original pressing 2000)
A mesmerizing sojourn into the cosmos. A seven-year project, this record is a wild ride from the initial flashpoint of creation to the present. A musical telling of the great story of the universe. A sound signature of fired clay, alloy, wood and agave towards a whiff of the spirit of evolution. Like nothing else. 74 minutes

The Eternal Presence (2003)
Transcendent four-part didjeridu compositions for deep listening, yoga, massage and meditation. This project was recorded in a 50-yard stone tunnel overlooking the Golden Gate Bridge, which transforms the sound with its radically powerful resonance. The collaboration features master players from South Africa, Mexico and the U.S. on one-of-a-kind agave didjeridu instruments in harmony, ranging from 2 ft. to 10 ft. long. 71 minutes

Arktos: Crystalline Compositions for Guitar - solo, duo and bass (2004)
11 truly innovative pieces touching on archetypal Arctic elements of raw natural beauty, glaciers, and ocean rhythms as well as the intuition, sorrow and equanimity around preservation of this frontier wilderness. With virtuoso Matthew Montfort on second guitar
Breath of Creation — solo huaca (Hemi-Sync® Metamusic® 2006)
A remake of the original Waves recording 2001. 11 Compositions for the haunting beauty of the huaca. The shape of the instrument reminds some of lungs or the heart, while the finish looks ancient and earthy. The sound has a primal quality that can call up memories of a distant past. The overall concept of Waves is the ocean as our own 70% saltwater body with human activities creating a growing toxicity, requiring a radical change in perspective about our role here.

Emergence — (Hemi-Sync® Metamusic® 2007)
Pieces for solo Hang and three Hangs played together on a custom built Triple Hang Altar.
Bearing Witness: Our Vanishing Ethnosphere — solo and duo didjeridu (2008)
We are in the middle of a mass extinction estimated by experts conservatively to be 5,000 times higher than the expected natural extinction rate. A single species, ours is responsible for this sixth extinction crisis in the history of life. Languages are disappearing at five times this rate of species extinction. Each language is in itself an entire ecosystem of ideas and intuitions, a watershed of thought, an old growth forest of the mind. The world is in a massive phase of homogenization brought about primarily by relentless corporate values and actions—the global corporatization of world culture—resulting in the tearing apart of indigenous cultures through the mining and destruction of sensitive ecosystem for profit.
Quintessence - 1974-1998 best acoustic instrumentals and songs (1998)
Pieces linked together into a whole using short historical audio clips providing a backdrop for the year each piece was composed.
Visit Alan Tower's website at www.alantower.net

What is Metamusic®
Metamusic® is more than music
. From soul-stirring New Age to dramatic ambient, and the timeless popularity of classical,
Metamusic
combines delightful musical selections with Hemi-Sync® binaural beats sound technologies to entertain and benefit the listener. Many titles feature special blends of Alpha, Theta, and Delta frequencies to slow excess mental activity in order to facilitate meditation or support deeper, more profound relaxation. Other selections feature a predominance of Beta frequencies for focus and concentration, or Delta frequencies for sleep enhancement. Metamusic titles are experiential and may be used to facilitate a given application or simply for musical enjoyment
(but NOT while driving or using heavy machinery)
.