Angyali paradicsom (Angel Paradise – Hungarian)
Angyali paradicsom (Angel Paradise – Hungarian)
Berglund "angyali " művei isteni gyógyításként és az emberiség átalakulásának ajándékaként arattak nemzetközi sikert.
Mennyei energiák szólalnak meg Berglund ír hárfájának kristálytiszta hangjaiban, dimenziókon átívelő egybefonódást alkotva a Lélekkel. Az angyalok az érzelem lényei, és Berglund szívből jövő művében gyógyító dallamok adják át az angyali érzéseket, és megérintik az emberiség érzelmeit az átalakulás e korszakában. Az Angyali paradicsomot masszás vagy energiagyógyító kezelés, illetve mély kísérleti meditáció során használd. Megszólaló hangszerek: Berglund ír hárfája és John Mazzei szintetizátoros hangszerelése.
Artist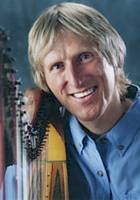 Angel Paradise

With great sadness we announce the passing of Erik Berglund. He died peacefully and without pain on September 2, 2013. His beautiful and love-inspired music will live on, and we are grateful for the opportunity to have worked with him. We invite you to view a lovely tribute to him by another gifted artist, Aeloliah, on YouTube http://youtu.be/P4puXUdMddo.
Of Norwegian descent, Erik Berglund was raised in Minnesota where his mother was a singer and choir director, and his father was head of the fine Arts Department and Orchestra Director at St. Olaf College. Growing up in an artistic household, Erik was active in everything from puppetry and film making to drama and painting. Musically, he played piano, violin and sang. Erik toured Norway, playing the violin in his father's orchestra. He also toured the United States and Europe as a member of the St. Olaf Choir. Erik moved to New York City to pursue his various artistic talents. He worked for Tomlin Films on educational productions; taught mime at the Richard Morse Mime Academy; drew portraits; acted in off-off Broadway Theatre; and co-wrote and performed puppet musicals in conjunction with the Children's Museum of the Native American. He gave voice lessons, voice workshops and also sang and played violin in the folk-rock group Open-Air-Carriage.
Erik is a unique recording artist who, like the troubadours of yore, combines his extraordinary musical talents with the Spirit and power of God's healing gifts. Erik sings like an angel with a refined tenor voice accompanied by the crystalline sounds of his Irish harp. Erik spent 19 years in New York City where he studied harp with legendary harpist Mildred Dilling, the teacher of Harpo Marx. He also studied meditation, healing and life lessons with the great spiritual teacher Hilda Charlton. He began singing and playing in Renaissance Festivals and then performed throughout New York City, including playing at the United Nations, Cathedral of St. John the Divine, Carnegie Recital Hall, and Lincoln Center. After moving to the West Coast, Erik expanded to touring throughout the United States, Europe, Canada, South America, Asia, Africa and the South Pacific. He has performed in major cities across the globe. His music was played for Queen Juliana's funeral in Holland and broadcast throughout Europe. He has recorded over 18 albums.
In addition to being an international recording artist, Erik is a sensitive healer whose life has touched thousands via workshops, retreats, lectures and private healing sessions. He facilitates group energy in conventions, conferences and symposiums. Erik has contributed to such gatherings as the 11:11 in Egypt, the 25th anniversary of the United Nations, the Gathering of the Masters in New Zealand, the Light Workers gatherings in Australia and Florida, Discover Life in Vienna, Conference Metaphysical in Brazil, the Body-Mind-Spirit Festival in London, the Earth Festival in Texas, the Wesak Festivals in Mount Shasta and Germany, the Whole Life Expos, World Congress of Illumination, Group Avatar Conferences and International MAPs Retreats with Jasmuheen. For many years Erik hosted Mount Shasta Millennium, an international gathering of light workers held in California each summer. Erik has developed several workshops including Abundance, Relationships, Healing, and Angel Workshops. His work is inspired by the angels and is designed to uplift and heal those parts of us that need beauty and healing.
Visit Erik's website at http://www.erikberglund.com.