New Frontiers
New Frontiers
Journey beyond the boundaries into new and unknown territory with this musical adventure.
Drifting from electronic soundscapes to atmospheric textures, Craig Padilla's analog and digital synthesizer music blends seamlessly with Marvin Allen's electric guitar, eliciting an adventure beyond borders. The addition of Hemi-Sync® frequencies take you on an exhilarating journey through unknown realms. Fans of electronic, ambient and rock music will particularly appreciate this composition. 62 minutes.
Executive producer Garrett Stevens. Engineered and mastered by Rob Dobson.
Other titles featuring Craig Padilla are: Awakening Consciousness, Cycles, and Land of Spirit  
Artist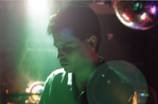 Craig Padilla is an internationally celebrated and award-winning electronic music artist. After more than two decades of performing live and recording his own music using many vintage analog and newer digital synthesizers, his style reflects the classic electronic musicians of the past, while finding new sound and music styles that are unique to the true ambient electronic music genre (often found in categories from New Age to Trance to Electronica).

His music and creative environment is inspired and influenced by the lands surrounding Coeur d'Alene, Idaho where he once resided, and by his earliest influences of being raised in far-northern California where he resides again, where he first explored the works of Wendy Carlos, Klaus Schulze, Tangerine Dream, Kraftwerk, Steve Roach, and many other pioneers of the electronic form.

Never letting technology overcome the humanity in his compositions, he creates electronic music that is rooted in tradition while still sounding new, interesting, and fresh.

Craig has always endeavored to paint musical landscapes with a rich palette of infinite timbral complexity, guaranteeing to take the audience to a different place on each listen, making every disc a recording that is a highly sculpted, crafted musical experience to be treasured and played indefinitely.

He has composed soundtracks for various television, theatrical, and film productions. His music is heard on XM Satellite Radio and radio stations throughout the US, and on celebrated radio programs "Echoes" and "Hearts of Space" repeatedly.

Visit Craig's website at www.craigpadilla.com.

Find more of Craig's music at https://spottedpeccary.com/artists/craig-padilla/
Artist
Marvin Allen is a norther California based multi-instrumentalist, singer-songwriter, performer, and music educator. As an accomplished musician he has been lending his talents to numerous jingles, recording sessions, and short film soundtracks for many years. He also co-founded the Shasta Blues Society, and continues to mentor many talented youths. This collaboration with Craig Padilla is his first foray into ambient electronic music. Learn more about Marvin's work at marvinallen.bandcamp.com.