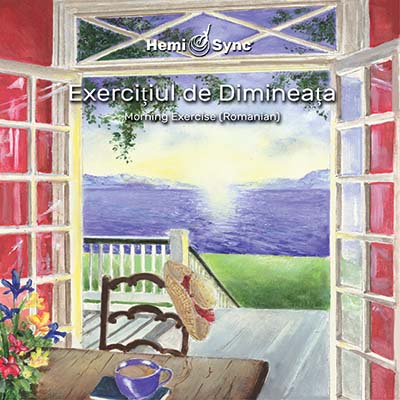 Exercițiul de Dimineața (Morning Exercise – Romanian)
Exercițiul de Dimineața (Morning Exercise – Romanian)
Incepeți ziua cu "Exercițiul de Dimineața" si planificați rezultate eficiente, de mare success pentru intreaga zi.
Acest exercițiu este un produs original al lui Monroe Products ce poate fi descarcat în format mp3. Prin utilizarea acestui exercițiu Hemi-Sync®, pe masură ce va programați ziua pentru realizarile pe care vi le doriți, veti stabili o legatura din ce în ce mai profundă cu Sinele vostru Total. In constiința voastra sunt adânc întiparite imagini si mesaje valoroase, prin accesarea cărora puteți realiza tot ce este mai bun în voi. Asculati Exercițiul de Dimineața în mod regulat pentru a spori încrederea de sine si pentru a vă îmbunatați performanțele. Trăiți viața la maxim! 19 min.
Adaptare text: Ritta Nicoara. Voce: Andrea Berger.
AVERTISMENT
NU ASCULTAȚI tehnologia audio Hemi-Sync® în timp ce conduceți un autovehicul sau lucrați cu echipamente grele și nici dacă utilizați dispozitive care pot influența activitatea undelor cerebrale.
Deși Hemi-Sync poate contribui la bunăstarea generală, aceasta nu este destinată să înlocuiască diagnosticul și tratamentele medicale.
Dacă suferiți sau ați suferit de tulburări auditive, mentale (de orice fel) sau aveți tendința de a face convulsii NU ASCULTAȚI tehnologia audio Hemi-Sync înainte de a vă consulta cu medicul dumneavoastră.
Deși se întâmplă rar, dar dacă, în timp ce ascultați Hemi-Sync experimentați orice fel de stare neobișnuită de disconfort fizic sau mintal întrerupeți imediat utilizarea acesteia.
Toate garanțiile produselor Hemi-Sync, fie exprese sau implicite, inclusiv garanțiile de vandabilitate și adecvarea la un scop special sunt sub actul de exonerarea al oricărei responsabilități din partea noastră.
What is Mind Food®
Mind Food® titles incorporate verbal guidance and/or subtle sound effects along with specially blended Hemi-Sync frequencies and sound patterns designed to help you achieve and sustain synchronized brain wave activity in both hemispheres of your brain. As with Metamusic recordings, Mind Food selections are available for a wide variety of uses ranging from meditations or focused attention to stress management and sleep enhancement, or for other practical everyday applications.