Celestial Meditation
Celestial Meditation
Experience profound meditative states with the deep space music of Jonn Serrie and Hemi-Sync®
Dissolve into complete relaxation and allow yourself to be carried into other energy systems. Jonn Serrie is a master in creating electronic music suggestive of galactic vistas and open spaces, providing a perfect audio environment for exploring other realities. His deep space music, combined with powerful Hemi-Sync® frequencies, will lead you into a profound and memorable meditative state. Length: 62 minutes.
Engineered and mastered by Kevin Cowan.
Other Metamusic® titles by Jonn Serrie are Maiden Voyage, Celestial Love with Hemi-Sync®, and Celestial Space with Hemi-Sync®
*Get all three "Celestial" albums at a special bundle price! Celestial Collection
Artist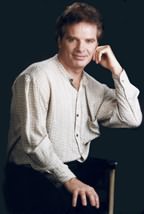 Maiden Voyage with Hemi-Sync; Celestial Meditation; Celestial Space
Jonn Serrie is at the forefront of the electronic music industry. His visionary compositional skills have revolutionized today's contemporary electronic music.
Along with his extensive portfolio of recordings, with combined sales in the millions, Serrie's list of achievements is diverse and esteemed. He was commissioned to compose the music for the world's first interactive planetarium production with Star Wars creator George Lucas and the Hayden Planetarium in New York City. His music has been heard in hundreds of theaters worldwide including England, Germany, Sweden, Italy, Japan, China, Canada, South America, Australia, and many others. He composed the score for "Galaxies Across Space and Time," an IMAX and Space Telescope Science Institute feature film about the discovery of deep field galaxies beyond the known universe. The film won first place in its category at the Large Format Academy Awards in Los Angeles. Jonn's music is also featured in the new planetarium theater on the Queen Mary 2, one of the most advanced cruise ships in the world.
His music is heard in World's Fair exhibits around the globe, including the award winning Futures Pavilion in Seville, Spain which won first place for the best science exhibit. Jonn contributed music to PBS, (John Glenn, An American Hero), the Discovery Channel, the Weather Channel, the U.S. Navy Blue Angels, custom music for aerobatic champion Patty Wagstaff, music for legendary pilot Pat Epps, and a unique presentation of educational narrative and live music with famed NASA astronaut Story Musgrave called "Space Stories."

Jonn is a U.S. Air Force auxiliary mission pilot with advanced instrument and commercial ratings and holds the disaster relief Presidential Award with Valor for his flying in the Deep Water Horizon gulf oil spill.

He composed music for the hit Hollywood film, "What the Bleep Do We Know" starring Academy Award winner Marlee Matlin, and for David Carradine's Tai Chi series. Jonn is principal keyboardist for David Arkenstone's Symphonic Adventure, and was chosen to compose the music for Cirque De La Symphonie's new corporate show, Cirque Universe.

Jonn performed at the anniversary celebration of Apollo 11 with Neil Armstrong in attendance, televised worldwide from Cape Canaveral, and premier performances at the Ansari X-Prize in St. Louis, the National Space Symposium in Colorado Springs, and the International Space Development Consortium in Washington, D.C.

He has performed before world leaders at the Carter Center in Atlanta, Georgia, and major corporate, astronomy and New Thought events around the country. He has opened for Dr. Wayne Dyer, Marianne Williamson, don Miguel Ruiz, Raymond Moody, Dr. Emoto, Michael Mirdad, Lynn Andrews, and others.

His music is utilized in the medical community for sleep research, hospice spiritual care, and music therapy programs for autistic children. Jonn is a hospice spiritual care volunteer.

The music of Jonn Serrie embraces the expansiveness of space with the intelligent use of melody. He has made space understandable and the soul accessible.

Visit Jonn's website at 
www.thousandstar.com