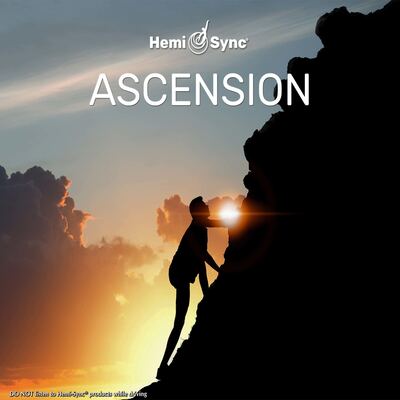 Ascension
Ascension
Move beyond the boundaries of three-dimensional reality with the transcendent electronic music of J.S. Epperson and Hemi-Sync®.
Epperson's inspired "music of the spheres" composition is an intricate and subtle musical tapestry adeptly interwoven to support experiential meditative states. Access an exquisite state of mental calm and expanded awareness with Ascension and commune with higher aspects of Self. (45 min.)
People also liked
See All
Related products
Gateway Experience® Wave V – Exploring

MP3 $82.65

Album Series Gateway Experience®

From the now familiar state of Focus 12, you will be introduced to Focus 15 – the "no time" state – the state of simply being.

GE047DL-1 GE5 Exploring 1 Advanced Focus 12 (DR)
GE047DL-2 GE5 Exploring 2 Discovering Intuition (DR)
GE047DL-3 GE5 Exploring 3 Exploring Intuition (DR)
GE047DL-4 GE5 Exploring 4 Intro to Focus 15 (DR)
GE047DL-5 GE5 Exploring 5 Mission 15 and Manifestation (DR)
GE047DL-6 GE5 Exploring 6 Exploring Focus 15 (DR

Gateway Experience® Wave I – Discovery (Japanese)( ディスカバリー)

MP3 $82.65

Album Series Gateway Experience®

ディスカバリーでは、「意識は明らかで/肉体は眠っている」という状態(フォーカス10)を学びます。また意識の広がった状態を体験できるようにするメンタル・ツールズ(想像上の道具〕も学びます。まず肉体的に目覚めた状態から深いリラケゼーションへと導かれます。そこからさらに、今までに体験したことのない意識領域へと導かれます。あなたのトータルセルフht深い知覚への手助けになるにつれ思考と行動における新しい可能性を発見しましょう。 The Gateway Experience®( ゲートウェイ・エケスベリアンス®)は意識の拡大した状態を達成し、探究し、適用していくための家庭学習用プログラムです。この人気の高いシリーズは(モンロー研究所®)の世界的に著名なGateway Voyage® ゲートウェイ・ヴォエッジ®)プロゲラムから直接生まれました。Discover( デイスカヴェリー)から始まるこのシリーズは、Waves of Change(一連の変化の波) と呼ばれる6つのアルバムから成ります。それぞ れのアルバムWaveには、複数のHemi‑Sync®(ヘミ・シンク®)周波数が特別にブレンドされ.音声ガイダンスと、かすかな音響効果との組再合わせによって、あなたを集中した意識の全脳状態へと導きます。その状難では幅広い範囲の知覚が可能となり、そのため問題を解決したり、創造性を高めたり、ガイダンスを得たりできます。このシリーズはアルバムの順に内容が進みますので、順番にお使いください。 各アルバムは一つ前のアルバムで学んだ道具や技術を基にしますので、順にお使いください。各アルバムに付属しているゲートウェイ・エクスペリア「ンス・ガイタンス・マニュアルは、エクササイズの準備のためのものです。一連のエケササイズを行なえば、自分のトータルセルフを知り、理解し、制御できるようになります。

Gateway Experience® Wave III – Freedom

MP3 $82.65

Album Series Gateway Experience® Voiced by Robert Monroe

Enjoy Focus 10 and Focus 12 exercises developed specifically to make the methods for perceiving and controlling your nonphysical energy a comfortable and joyous experience.

GE045DL-1 GE3 Freedom 1 Lift Off (DR)
GE045DL-2 GE3 Freedom 2 Remote Viewing (DR)
GE045DL-3 GE3 Freedom 3 Vectors (DR)
GE045DL-4 GE3 Freedom 4 Five Questions (DR)
GE045DL-5 GE3 Freedom 5 Energy Food (DR)
GE045DL-6 GE3 Freedom 6 First Stage Separation (DR)
Artist

Ascension, Einstein's Dream, Hemi-Sync® in Motion, Golden Mind, Higher, Illumination for Peak-Performance, Indigo for Quantum Focus, The Lotus Mind, Remembrance

J.S. Epperson is a composer and producer of functional ambient music—music with purpose. Epperson's music is best paired with yoga, meditation or tasks that require enhanced concentration. Hemi-Sync® is the perfect complement to his work, and he is proud of his continued relationship with Monroe Products.
Visit his website at http://www.higher-music.com.

What is Metamusic®
Metamusic® is more than music
. From soul-stirring New Age to dramatic ambient, and the timeless popularity of classical,
Metamusic
combines delightful musical selections with Hemi-Sync® binaural beats sound technologies to entertain and benefit the listener. Many titles feature special blends of Alpha, Theta, and Delta frequencies to slow excess mental activity in order to facilitate meditation or support deeper, more profound relaxation. Other selections feature a predominance of Beta frequencies for focus and concentration, or Delta frequencies for sleep enhancement. Metamusic titles are experiential and may be used to facilitate a given application or simply for musical enjoyment
(but NOT while driving or using heavy machinery)
.