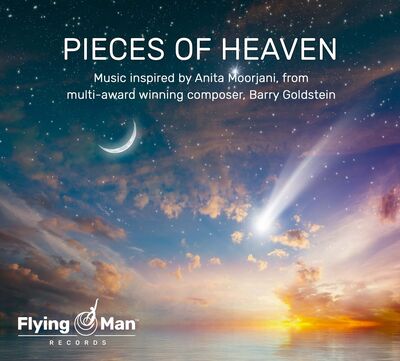 Pieces of Heaven
Pieces of Heaven
Music inspired by Anita Moorjani by multi-award winning composer Barry Goldstein.
Heart opening melodies, ethereal textures, angelic voices, and orchestral undertones create the perfect sonic backdrop to immerse yourself in the essence of unconditional love. Give yourself a precious vibrational gift with each listen as you experience heaven on earth. Length: 57 minutes. (This version does not contain Hemi-Sync®)
"Barry Goldstein really captures the spirit of heaven in his music – Pieces of Heaven."  – Anita Moorjani, Speaker and New York Times Best Selling Author
Artist
Cosmic Consciousness, Pieces of Heaven with Hemi-Sync, Wisdom of the Heart, Your Heart's Song
Barry Goldstein's musical experience spans many styles and genres from co-producing the Grammy Award winning track "69 Freedom Special" with Les Paul for Best Rock Instrumental in 2005, to providing ambient music for Shirley MacLaine. Barry has composed and produced for television, film, major record labels and top ten recording artists. Barry's music is being used in hospitals, hospices, cancer centers, and medical practices. In addition, Barry reached the Billboard top ten albums on the New Age charts with New York Times best selling authors Neale Donald Walsch, Anita Moorjani, Dr. Joe Dispenza, and Dr. Daniel Amen. In addition, he has received the Coalition of Visionary Resources Award(s) for Best Music of the Year in 2017 and 2018.
As a speaker, Barry's presentations have been audience favorites from Medical Grand Rounds to national medical conferences. Barry breaks through even the toughest of skeptics by providing research, humor and experiential processes that demonstrate the healing and transformational aspects of music and how these "musical prescriptions" can be used in modern day medicine.
His bestselling book "The Secret Language of the Heart" has become a "go to" manual for utilizing music beyond art and entertainment. It provides over 50 groundbreaking studies that assist the reader in using music to improve their health and quality of life. It has been endorsed by medical pioneers Dr. Norman Shealy, Dr. Stephan Sinatra, Dr. James Oschman, and Dr. Daniel Amen.
Visit Barry's website at www.barrygoldsteinmusic.com